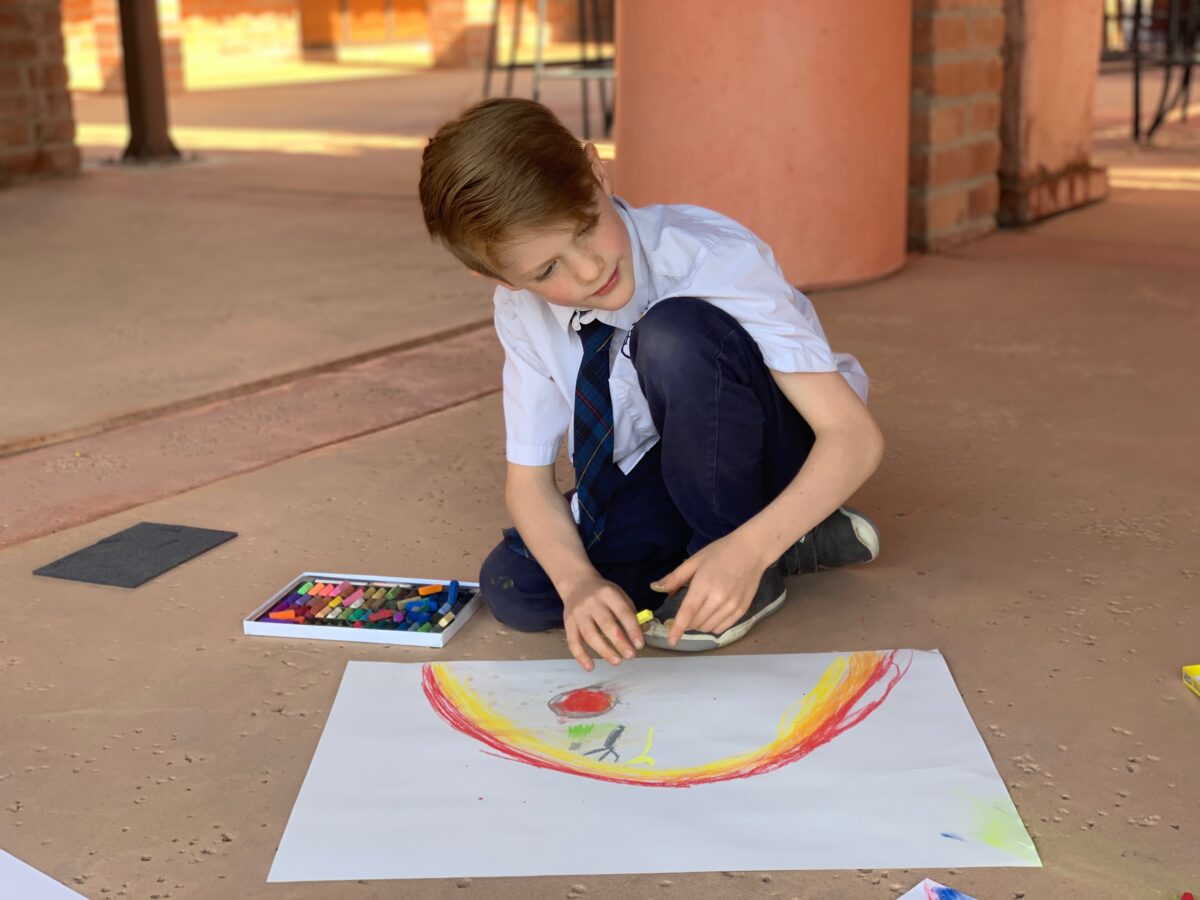 Cottage Homeschooling: A Classic Christian Education
Parents are in control at Excelsior Classical Homeschool Academy in Paradise Valley, Arizona
It's a Monday morning. The children of Excelsior Classical Homeschool Academy in Paradise Valley, Arizona, gathered to go to school.
Held at a local church, students of varying ages come dressed in uniforms. It's a time of coming together for students, parents, administrators, and teachers: a time to get back on track with their educational goals and this week's schedule, see how everyone is doing, connect, and enjoy community, and be strong together.
The rest of the week, the children will continue their studies at home under the supervision of their parents or guardians. The school uses the award-winning Memoria Press Classical Core Curriculum, a comprehensive classical Christian curriculum that emphasizes language and math. Great works of history and literature are also included, as well as church history, Latin, and the cultures of Athens and Rome.
At other times, students get together for special events and activities. For example, the Cardinals Nature Club meets every other Friday to enjoy the outdoors by hiking, visiting farms, nature watching, or birdwatching at preserves. Meanwhile, the Cardinals Culture Club meets monthly to attend local ballets, symphonies or museums.
The parents are in the driver's seat. At this school, they share the belief that parents are in the best position to nurture and educate their children, not only in terms of schooling, but also character development and a faith-based life path. . And, at the end of the day, students are ready to enter college and do well.
There is no single recipe for how homeschooling should be structured. Depending on the ingredients, it comes in different flavors. It can be adapted to meet the needs of individual parents or a small group of like-minded parents.
Two key ingredients you will find at Excelsior are time and talent. Parents and teachers invest in creating the unique, enriching and stimulating atmosphere of this academy – a chalet, a cooperative school, if you will. It's a creative, classic, and Christian combination that works.
At first
"We always knew we wanted to homeschool," said founder and principal Pauline Abello, who is also a principal and teaches at the school. Married for almost 17 years to her husband, Derek, they homeschool their seven children, aged 4 to 16.
"None of us had great experiences in public school…it wasn't so much the teachers as the bullying…the negative peer encounters," Abello said, adding, "We didn't want our kids to go through the same thing."
Other parents felt the same and they connected. They have created a homeschool community for mainstream educators.
Excelsior started in 2019 with six families and 12 children. Almost four years later, there are 28 families and 80 children. Classes are intentionally small; most top out at eight. And, for some classes, there are waiting lists.
"We're still tweaking and learning and growing…there are so many ways to homeschool," Abello said. She feels privileged to have a group of teachers (many of whom are parents) who are highly educated and have a variety of different skills. "We bring talent together and that allows us to bring excitement and life to the program."
To say Abello is passionate about what she is doing is an understatement. For her, it's more than a business. It is a call and a ministry to travel with other parents as they raise another generation of children who are exposed to the classics, can think critically, and will know and defend their Christian faith.
Teach on trial
In order to receive federal funding, states administer a variety of standardized tests in public schools. Parents generally want their children to succeed, and the assessment of test scores is one measure. Rigid tests also require endurance from students, teachers, and administrators.
Some critics of rigid standardized tests argue that teachers have eliminated more fun or creative lessons to focus on what they know to be on the test. They are as stressed as the students, because their evaluation as teachers is often based on how well their students pass these tests. And for administrators, state accreditation is tied to test scores.
Legally classed as homeschoolers and with an education primarily run by parents, Excelsior receives no government funds or taxpayer dollars. Is there a better way than standardized tests to see results?
For students at home at Excelsior, formal testing does not begin until the final years.
"Most students are college-minded, so there's preparation for the SATs," Abello said, "but that starts later." For the early grades, other methods are used to assess whether the student grasps the material. "We do a lot of narration and recitation, as opposed to rote testing."
Abello adheres to a softer approach, asking "Tell me what you learned" rather than a list of questions.
"We're a little different," she said. "We navigate these waters in a unique way."
Abello pointed out that "there are different types of students and all different ways of learning." She is delighted that due to the small size and privacy of their secondary school, they can be flexible, move around more easily and be more attuned to the individual needs of the students.
"Some kids just need more leeway," laughed Abello, mentioning a young student who prefers to read Shakespeare in the sun.
In support of this approach, Abello cited different studies that show that homeschooled students generally succeed "outside the box" academically.
home school price
When a family comes to Abello to learn more about the teaching methods at Excelsior, they are more than willing to share their positive results and the benefits of a tight-knit community that offers a classic Christian curriculum. It takes effort on the part of parents, but many believe it is worth it.
"These parents really care about their kids…there are sacrifices," Abello said, explaining that parents' decisions are made for a reason.
However, this education option should not be taken off the table too quickly. Arizona has a strong home schooling network; families receive assistance as needed through various home schooling scholarships and grants available through the national and local Arizona chapters of the Homeschool Legal Defense Association (HSLDA).
"We keep it very affordable," Abello said of tuition, which is under $500 a year for families with actively participating parents. For dropouts, tuition fees are higher.
Uniforms worn in classrooms are modeled after school and state colors, and are also made affordable. Abello wanted to add a sense of formality: "If something is important, we dress the room."
All eyes on Arizona
In July, Governor Doug Ducey signed HB 2853 to expand the Empowerment Scholarship Account (ESA) program. It will come into effect on September 24.
The passage of this bill is a huge step forward for school choice in Arizona. Essentially, this bill opens up the opportunity for all parents to receive a state credit ($6,500 to $7,000) per student, allowing them to educate their children however they choose – public, private, charter. , Christian or at home – and to receive help to do so.
Previously, only students belonging to distinct slots could qualify. Now it's open to everyone.
The passage of this bill does not affect current homeschoolers. Parents do not have to apply if they choose not to, but government funds are available.
"I think it's great legislation and I support it," Abello wrote in an ESA update published on the Excelsior website. "I trust parents that they know what is best for their children."
Since the funds can accumulate (like a savings plan), the funds could be used for a state college or a private Christian college.
"It's a huge deal," Abello said.
Looking forward
Derek and Pauline Abello are entrepreneurs and educators. But above all, it is a faithful family.
What they created at Excelsior, they hope to see duplicated soon. "We are considering a second campus," she said. "Our enrollment is growing, but we want to grow slowly, keeping class sizes small."
Abello is also open to expanding its model beyond Arizona. She is very willing to share their success with other parents.
It always comes down to family. As for her, Abello is expecting baby number eight in December. "We did this for our children. I love what I do," she said. "It brings me so much joy."
For more information
To learn more about Excelsior Classical Homeschool Academy, visit ClassicalHomeschoolCurriculum.com
To get in touch with Pauline Abello, email her at [email protected]