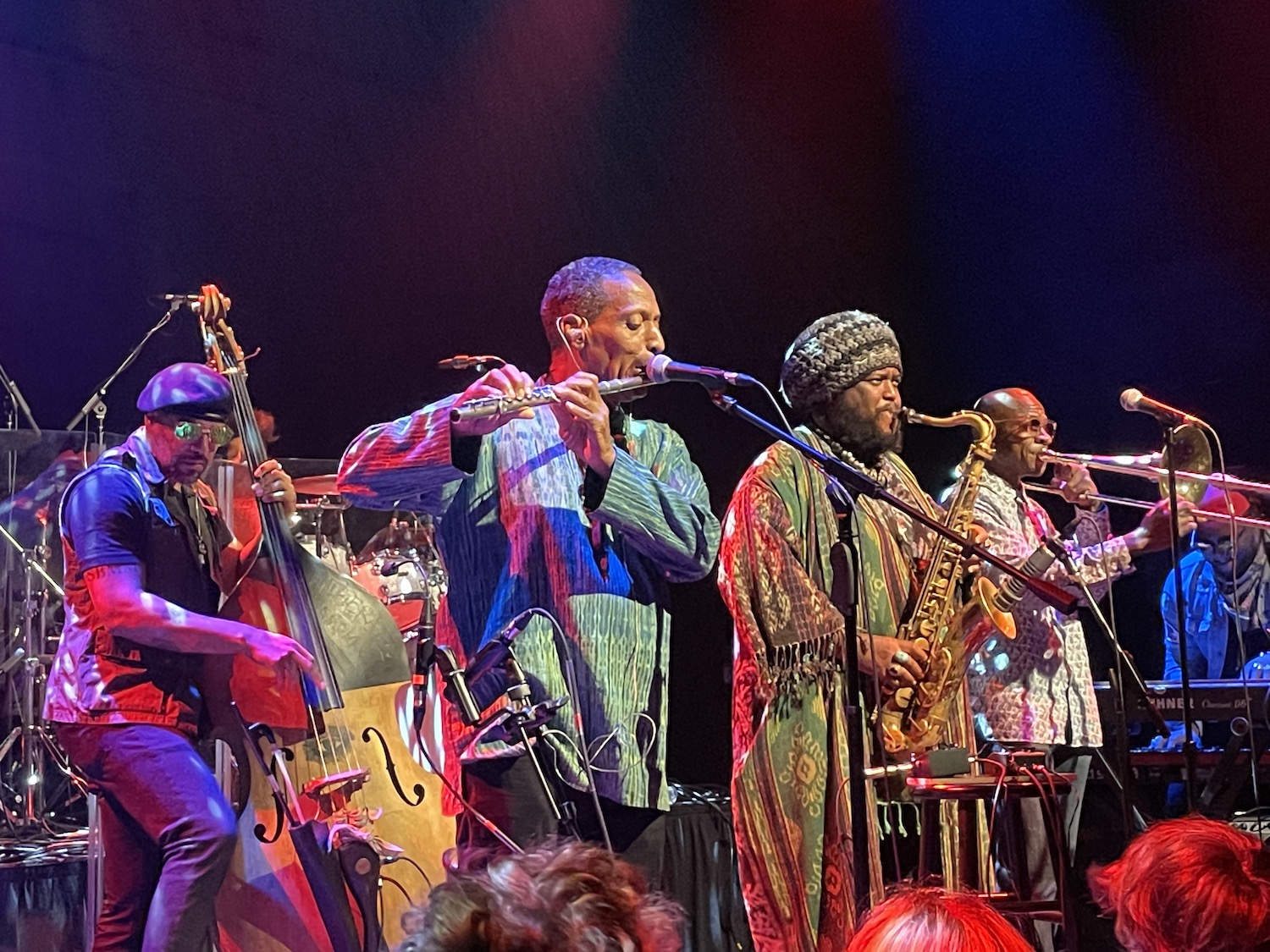 Kamasi Washington's iconic line brings funk and wit to the Guild Theater
Taking Caltrain on a foggy Wednesday night to see Kamasi Washington's show at the Guild Theater seemed unthinkable earlier this year. That guy in Menlo Park?
But in the midst of a summer in which every artist and performer is trying to reconnect with fans, a paying box office and a livelihood, everyone is picking themselves up and hitting the road again.
Good for the fans. I've seen three bands in the past five weeks that I never thought I'd see in my life.
That night, July 27, I departed from 4th Street and King Station, paying $16.50 for a round trip with my Clipper card, and sat in a sparsely populated coach. I saw the rail environment outside go from urban sprawl to excess real estate in big box malls in less than an hour.
Kamasi Washington, a UCLA ethnomusicology student and anime enthusiast, is more than just a well-known musician and bandleader. He is a generational figure who brings modernity to American classical music. Updating the jazz canon with insights from the perspective of black America in 2022. Pushing the art form, with its tenor sax, further into the present. He has studied the jazz tradition extensively, but he is also part of the generation he continues to inspire.
Miles Davis began his career playing in jazz clubs and concluded it performing at outdoor rock and funk festivals. Kamasi Washington can walk into a room with Robert Glasper, Terrace Martin and 9th Wonder, crack jokes, then compose. Or put together a soundtrack that mirrors the rise of Michele Obama, then cover a Metallica song.
His band just played in Napa at the Charles Krug Winery at the end of July. The set, like the majority of the shows at the festival, relied heavily on jazz – let's call it, black music in general.
Jazz, a temperature reading where culture at large is, was never meant to be static, immobile or on a shelf picking up dusty props.
Washington coming to collaborate with Kendrick Lamar illustrates this point. We don't know what the total impact of Pimp a butterfly will be on future black generations, or anyone who identifies with "the culture." It is still in development, somewhere in perspective. But it's the Washington band, and more specifically his close friend and trombonist Ryan "Papa" Porter, that I've been watching for a while.
Porter's 2018 album the optimist is a testament to the bond generated by LA's most acclaimed contemporary jazz band, West Coast Get Down. An immensely talented collective, its story involves a group of school friends who, in the 1990s, used jazz as a form of escape that led to them becoming this country's next wave of jazz lions.
In the fall of 2008, Porter rounded up 11 other Los Angeles jazz musicians, largely from the WCGD, in the garage of Kamasi Washington's parents, affectionately nicknamed "The Shack".
For me, that was one of the starting points for the whole jazz revival.
NPR notes that this current renaissance has begun with Robert Glasper winning a Grammy for his album black radio in 2013, "not in a jazz category but for best R&B album – it was like starting a new chapter."
But again, Washington at a black–pardon me–Jazz Festival at the Charles Krug Winery, in Napa Valley's ever-beautiful countryside and achromatic population, indicates that a shift has taken place.
the optimist predates the UK's Total Refreshment Centre, another location that helped incubate the newcomer scene. It foreshadowed Washington's well-deserved accolades and score for Michelle Obama's biography. He and his band composed atmospheric renditions of '70s disco in baroque segments, along with rapturous piano orchestration created from the digitization of the Obamas' own playlists, which draw on a certain kind of "Motown-ish soul and R&B," Washington said in Rolling Stone.
The Shack, even in its name, was about those roots from which sprouted the current swell of world jazz.
Porter said he grew up on hip hop, gangsta rap, 70s soul, funk and R&B. the optimist infused these genres from black America, reminiscent of how contributors to the British jazz revival imbued their vision of the genre with soundsystem culture, Caribbean accents, EDM, bass music, broken rhythm – all signs of how young black people choose to move abroad.
Porter captured the future in this cabin.
"It was just The West Coast Get Down in a state of complete optimism, recorded in late September 2008, with hope for something better," he said in the press years ago. about those salad days.
But Porter and Washington play together? It's a whole other thing.
"There's something magical about the way Ryan and Kamasi play a line together," Miles Mosley told Bandcamp Daily in 2019. Another Get Down member who also plays on all of Porter's albums, Mosley pointed out that "Kamasi leans forward and Ryan leans back in that perfect amount to make the two sound like there's four of them. Those two, their minds are so well fused.
So I get off the train, walk a few blocks through the pristine alleys of downtown Menlo Park, rush into The Guild. The place felt like a smaller version of Bruno here in SF, but with a conscious reassembly: it sparkled and the staff were genuinely inviting. They should do well this summer and beyond.
Looking towards the stage, there is this line. Fill the room with reverence. Patrice Quinn on vocals, Rickey Washington (Kamasi's father) on flute and soprano saxophone, Washington on tenor and Porter, right next to him, on trombone.
The group is fully committed to opening "The Garden Path" night. Launched over keys by funkster Brandon Coleman, the song featured Washington-inspired solos and bassist Mosley, who pinched, banged, tugged, slapped, then finally, to widespread applause, pulled out his bow and took things in classical improvisation. directions.
A flex recognized by all, very early in the evening.
Throughout the seven songs of the 90-minute set, Washington made sure to shout out his band, instead of waiting for the end. It was a family performance on stage, with Tony Austin and Jonathon Pinson performing double drum duties.
But as the band grew with the stovetop "Sun Kissed Child" (the melody of which came to Washington's mind while looking at his newborn daughter), we got that specific Porter tone, with these intonations, these tracks, these moods and these colors. Jazz, through hip-hop and funk, informed by soul and rooted in the colloquialisms we use.
Quinn gives her the best vocal read of the song. All leading up to Kamasi Washington, pulling and pushing the pace. skronking. Hovering in the upper register of the tenor sax. Almost pacing, walking in time on stage, eyes closed, ears and mind open.
Vulnerable, unstoppable.
Much like Charlie Parker and John Coltrane, accustomed to lengthening, riffing and writing new compositions based on standards or show tunes – things in their cultural zeitgeist – Kamasi unleashed Kraken's value from its own touchpoints. One moment it was a Parliament Funkadelics "Flashlight" chorus. I immediately pointed my finger at the sky, just on a whim – it was referring to the premiere of a classic by a one-man band by Bernie Worrells. Then we get the last part of John Coltrane's "A Love Supreme" updated, recontextualized, aggressive, in an enthusiastic way.
The songs and artists come from two decades of genius music, rooted first in the African American consciousness and later in the global consciousness. Hitting these note arrangements, oscillating between funk and spirit, Washington united the piece even further, in 30 seconds.
Meanwhile, jazz, hired by new storytellers, is marching.
As my buddy Todd reminded me last week, after discussing some new traditions I witnessed at a punk show earlier this summer:
"Evolution can be awesome." His words rang in my ears all the way back to The City on Caltrain.
Yes he can.