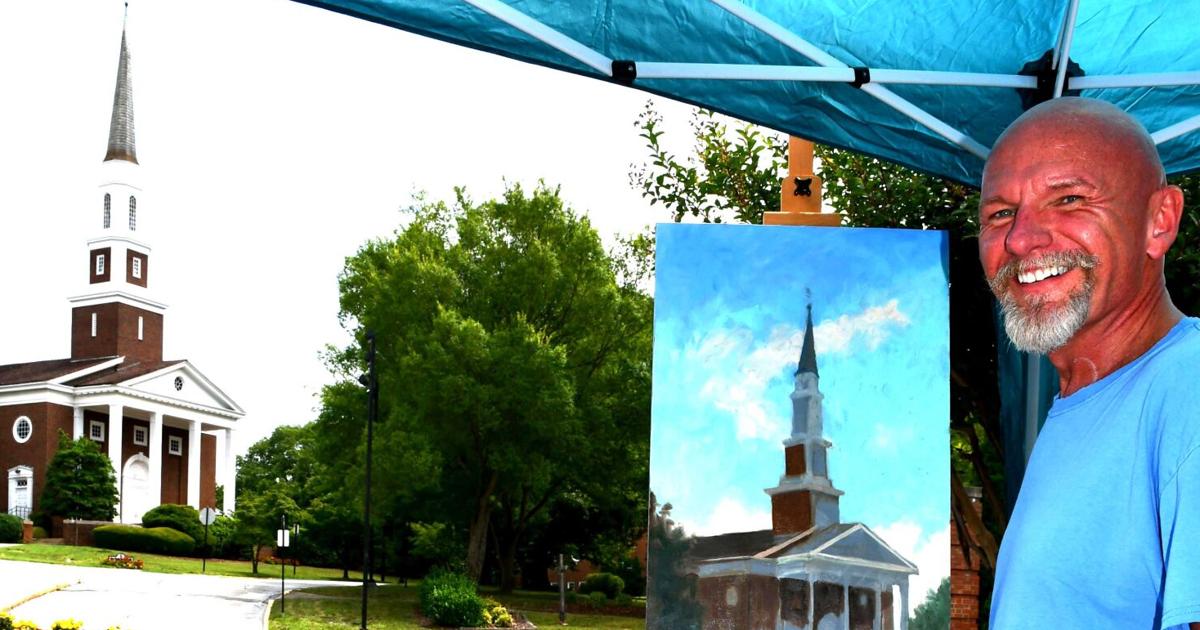 'Paint Kingsport 2022' outdoor competition focus of the Kingsport Art Guild exhibition | Culture & Leisure
KINGSPORT – If you didn't spot any of the 30-somethings at work at the Kingsport Art Guild's 'Paint Kingsport 2022' outdoor competition last week, you have a few weeks to check out their finished works.
The Guild, a staple of Kingsport's cultural art scene since 1949, will display the paintings in its gallery at the Kingsport Renaissance Center until August 15.
Plein air means creating paintings on location, in the open air. It is linked to the artistic period of French impressionism of the 19th century. Artists paint quickly to capture their impression of the subject at any given moment.
Steve Reeves, Executive Director of the Kingsport Art Guild, was among the artists who took part in this first-ever event. The Times News caught up with him during his second of three days working on a painting of the First Presbyterian Church in downtown Kingsport's Church Circle.
"The exciting part is I'm here on location," Reeves said. "It's very different to work on a painting in my studio. When working from a photograph, the vertical lines have been distorted by the camera. I'm going to work on it, on site, for three days. The sky has changed since yesterday. But I adjust what I see to what I had planned at the beginning. This is not correct. It doesn't have to be exact.
Paint Kingsport 2022 is the first such event for the guild, Reeves said.
"We want to do it every year going forward," Reeves said. "We no longer have a Fun Fest art exhibit. And we also promote Kingsport. It's in the name. Paint Kingsport.
After a workshop on July 5, the more than 30 artists who entered the competition were given July 6-8 to choose a location and work outdoors to capture their impression for Paint Kingsport.
A speed sketch competition was held on July 9, followed by judging and a gala that evening.
For more information about the guild, visit kingsportartguild.com.
The Renaissance Center is located at 1200 E. Center St., Kingsport, 37660.
Gallery hours are Monday through Friday, 9 a.m. to 8 p.m.; Saturday, 9am-12pm; Sunday, during special events. The gallery is closed on public holidays and in bad weather.
Dial (423) 246-1227 for more information.