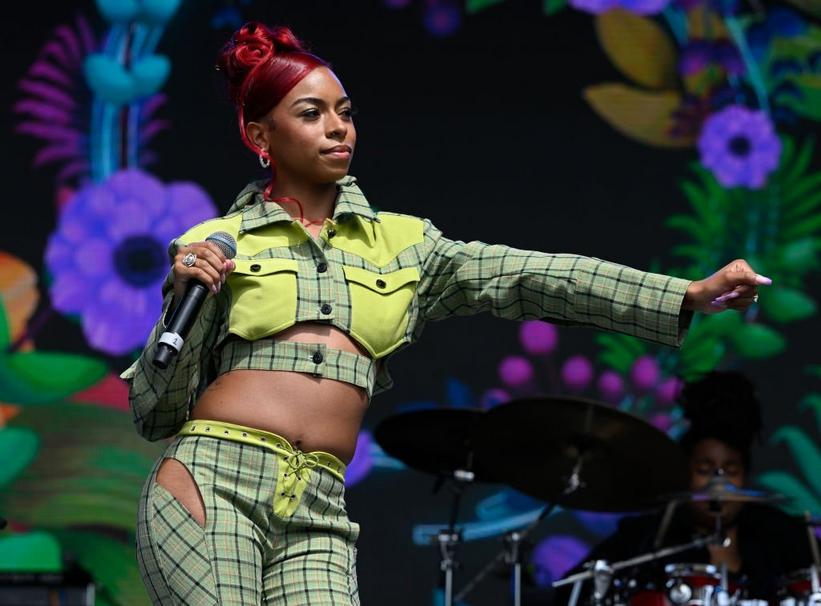 Ravyn Lenae's 'Hypnos' is a cosmic R&B contemplation
"I've always been infatuated with everything up there," singer Ravyn Lenae Washington said on Zoom from her home in Los Angeles, gazing up at the ceiling and possibly the heavens. "I try to create this feeling of the unknown here below through my art."
Lenae's fixation on the twin mysteries of the divine and the galaxy served as the seed of inspiration for her debut album, Hypno. Released May 20 on Atlantic Records, Hypno is a harmonic galaxy of space, time and patterns of romantic ardor. The power of these celestial entities and Lenae's distinct vibrato collide throughout Hypno' universe of sound and will overflow pleasantly from terrestrial loudspeakers.
Hypno aims to be a cosmic journey through the intricacies of Lenae's curious mind, sung with a lighthearted nature that allows listeners to astral project through Ravyn Lenae's anecdotes of enduring love and unhappiness. All along Hypno, Ravyn Lenae's vocal range floats between registers, seemingly defying gravity with every glissando note. "Cameo" opens Hypno while the upbeat electronic second track, "Venom", is a considerable adrenaline injection over the outro, "Wish" – a mournful swan song.
Ravyn Lenae's infatuation with extraterrestrial dimensions results in an album full of dreamlike sounds, which she repeats as if singing in the vacuum of space. The hypnotic album shows her inner reflection, while Lenae's transcendent lyrics literalize her soul's attachment to the vigor of love.
While Ravyn Lenae rarely collaborates and writes most of her music herself, the singer has found a frequent creative partner with a longtime friend. Steve Lacy – his "musical twin flame". "Sticky," Lenae's 2018 hit single features free funky chords from Lacy's electric guitar over its hauntingly melodic chorus. The duo released three songs together – "Skin Tight", the first release from Hypno, "Computer Luv" and "4 Leaf Clover". Other musical mavericks joined Lenae on Hypno: Smino, who is known for his prolific Southern rap flow, the folk ballad Mereba, and the tender voice of Fousheè all contributed to the 16-track album.
The otherworldly nature of Lenae's voice is perhaps more explainable than the existential themes she contemplates on Hypno. A classically trained singer, Lenae studied at the prestigious Chicago High School of the Arts before signing to Atlantic Records/Three Twenty Three Music Group. His first EPs, moon shoes and Crush, were lush and caught the eye of Hollywood multi-hyphen Issa Rae. The 23-year-old created the original song, "Rewind," for Rae's acclaimed television series "Insecure".
However, to create Hypno was a four-year process. "I describe [Hypnos] like walking on the sun," Lenae says, choosing words carefully. Ahead of her album release and world tour starting May 26, Ravyn Lenae spoke with GRAMMY.com about her affinity for the greater universe beyond us and of creating work that attempts to center us in the unknown.
How did you create space for Hypnos train in the past four years?
Honestly, it took a lot of turns and jumps along the way. I think at the start, when you start a project, you have a big idea and you know what it's going to look like. Over time, I realized that I shouldn't put so much pressure on Hypno and let it flow as it should naturally.
I wanted to challenge myself vocally and challenge my pen — that was my main focus because I think it's easy for me to fall into that feel-good comfort zone. But, I really wanted to push myself out there and reach out to more vulnerable parts of myself…on this project. I feel like there are also simpler rhythms, which is sometimes difficult for me to write and perform because I was classically trained. I wanted Hypno to feel evolved from Crush and moon shoes because so much time has passed and I wanted it to show throughout the music.
Did you feel the pressure of the first album? If so, how did you combat these compulsive thoughts?
I think [the] most of the pressure came from myself. I have a lot of people who love my music, who support me, who will be there whenever I decide to give up. But I think at times I got into my head a lot, which I think is natural for artists.
Fighting this is going to be a journey of a lifetime for me just because… I think we can be our own worst critics this way. It is important for me to have to return to these peaceful places; places of comfort for me [that] give me that clarity and that perspective to be able to approach the music in a more natural way, without those external or internal pressures.
With your intensive musical journey, what were your sensory techniques for your voice in your first album?
With my vocal range, you almost never hear me belting because I'm very uncomfortable with it. I studied classical music in school and we were taught never to sing with our chest voice. So in the final song, "Wish", there are a few moments of that. They're also scattered throughout the project, where I hit those lower registers, but having that moment for the outro is really special.
I actually recorded this song three times; I needed to go there. I like the lyrics, I like the melodies but I think I'm leaving everything aside for this last song ["Wish"] is so important for the listener and for me to feel that I am achieving the goal I wanted to achieve. So even just emotionally, I felt like I had to go. When I do vocal lessons with my teacher, the belt is always a sore spot for me because I wish I could do it more naturally and comfortably. It really is a mind over matter.
**How did you bridge different generations of music to find yourself on Hypno?**
I'm very, very inspired by the women who came before me. I think a lot of artists now are afraid of being labeled R&B, which is funny to me, because I don't have a problem with that, because that's my roots. I think R&B is part of every genre and part of my upbringing.
It's normal for us to evolve and take on a new shape, just like hip-hop and pop. Janet Jackson was a huge influence on me, as was Brandy with the way she layers her voice and tone.
If you had to describe your music to someone close to you, what adjectives instantly come to mind when you think about your discography and this new phase you are entering?
Dreamy… Sparkling… Silky…
Why do you think having a strong community of artists behind you has guided you to where you are today?
The reason I moved from Chicago to Los Angeles was because I felt like [had] kind of lost that community of artists once everyone started drifting away. I was the last person left in Chicago because my family was there and that kind of connection was important to me. Be [in Los Angeles] now and being able to meet new artists and artists I've been friends with online in real life has allowed me to cultivate those relationships.
It's my first co-writing experience that way because I've only really done it with Steve Lacy on Crush. I'm very particular about my verbiage in how I express things in my music. So I never really co-wrote with anyone in the past until I met them to brainstorm ideas.
What is the energy in the room when you and Steve Lacy play together?
He just understood me. It's so rare to meet someone who approaches music the same way you do. He just thinks about things in a very similar way to me, but he still inspires me. I feel like I really found that balance with him and my buddy Monte Booker, but in a different way with Steve, because we're both the same age.
It has a super vibrant energy. He is himself, period. Being in a room with him inspires music and pushes me into different areas. I would not naturally embark on this project. It's good to be able to grow with his collaborators because he too has grown so much.
Which song from the album is your favorite right now?
"Inside Out" is my favorite at this point. It changes over time but, at some point, every song was my favorite, which I guess is a good thing when you think about the album as a whole.
How does the culture of your art influence your relationships and connection with the purity of love?
I think love will always inspire art because they go hand in hand. You can't have one without the other. For me, going through romantic relationships or self-love, reflection and family relationships.
My song, "Deep in the world", is about my love for the Earth and the universe, [for] nature, and all this mutually informs each other. Being able to evoke this through music helps me connect with others and the love they have for themselves.
Behind the Smoke and the Mirrors with Japanese Psychedelic Rock Legends Kikagaku Moyo