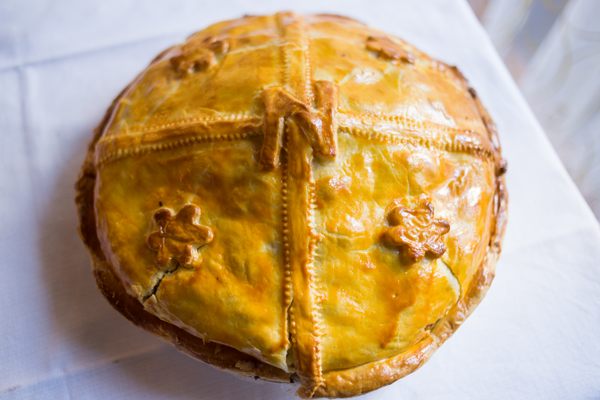 The Italian city where you can eat like a Renaissance royal
Every morning at 3 a.m., In his shop in the northern city of Ferrara, Italian baker Sergio Perdonati recreates Renaissance bread. Using a 90-year-old starter (which his father managed to save after the bakery was bombed in World War II), he rolls two lengths of dough, one under the palm of each hand, until they start to roll up. He then presses the two pieces together in the middle to form an "X" and places it on a tray with a dozen others ready for baking.
With a texture like a fluffy breadstick, the copy remains Ferrara's favorite bread almost 500 years after its invention. In fact, much of the city's traditional cuisine is an ode to 16th-century cuisine and the tastes of the city's rulers at the time, the mighty Este dynasty. In power from 1240 to 1597, they transformed the city into a sophisticated artistic and cultural center. Their monumental castle still dominates the main thoroughfare and the art collections they amassed fill the galleries. The tables of the epicurean Estes were also masterpieces, laden with sumptuous and extravagant dishes.
The city has worked hard to preserve Este foods over the centuries because, like artistic treasures, they represent Ferrara's golden age. The people of Ferrara have a penchant for pretending they are still living in the heyday of Este with re-enactments of Renaissance parades and festivals. Recreating Duchy food is a similar, if less extravagant, glorification of this great heritage.
The origins of many dishes can be traced back to the Estes through the cookbook of the great court chef Cristoforo da Messisbugo, who died in 1548. Baker Perdonati explains that Messisbugo invented the coppia for a carnival dinner in 1536. The twisted shape was meant to be intended to recall the luscious curls of Lucrezia Borgia, an infamous noblewoman as fatal Womanwhose third husband was Alfonso I d'Este, Duke of Ferrara.
Nowadays, coppia could be made with mechanical assistance for mixing and kneading, but at the Perdonati bakery it is made rigorously by hand. This means that each loaf bears the "signature" of the baker who made it. "It's very much a matter of technique," explains Perdonati, "it takes two or three years to learn." Under European law, the coppia ferrarese benefits from Protected Geographical Indication (PGI) status recognizing it as a local speciality. Perdonati is keen to stick to the traditional recipe because "it's authentic and it's good for your health, there are no additives like in modern bread". The formula seems to work since his coppia flies off the shelves every morning and adorns the tables of several restaurants in the city.
Also from Messisbugo's opus Banchetti, Composizioni di Vivande and Apparecchio Generale ("Banquets, Recipes and Dressage") is salama da sugo, a traditional second course. To make this delicacy, various parts of a pig, including the cheek, tongue and liver, are minced, saturated with wine, flavored with salt, pepper and nutmeg and stuffed into the pig's bladder. . This is then hung to age for about a year. The cooking process involves boiling the salama for four to eight hours. It is usually served with mashed potatoes, which helps moderate the powerful flavors of the meat.
At Ristorante Raccano, chef Laura Cavicchio serves the dish with an unusual, but once traditional side dish. She adds a small cube of fried pastry cream dusted with icing sugar, which counteracts the overwhelming richness of the salama surprisingly well. Cavicchio also recently gave the archaic recipe a modern lift to ensure it remains popular. His salama da sugo ravioli are packets of pasta stuffed with sweet potato and topped with a cheese sauce and a little salama. It is significantly less expensive than the original dish.
Cavicchio constantly dips into historical cookbooks ("I've got a fire inside me," she jokes), and she's resurrected another classic Messisbugo as a starter. His crostini alla Messisbugo are triangles of toasted bread spread with chicken liver pâté and aromatic herbs. "I translated and recreated the recipe myself," she says with obvious pride.
A dish that appears almost everywhere on restaurant menus in Ferrara and is also frequently prepared at home is cappellacci di zucca—pumpkin-stuffed pasta packets. The name translates to "little hats", supposedly because their shape resembled the headgear of peasants. The recipe for this dish was first written down in 1584 by Giovan Battista Rossetti, a "scalco" or member of a guild of gastronomic servants at the Este court.
Today's recipe reproduces Rossetti's "Tortelli di Zucca con il Butirro" almost exactly. The filling, made with velvety butternut squash puree flavored with pepper and nutmeg, omits only the ginger from the original ingredients. The stuffing also contains Parmigiano Reggiano or Grana Padano cheese, eggs and breadcrumbs. The pasta packets are served drizzled with butter and sage or in a meat or tomato sauce. At Ristorante Raccano, they are among the bestsellers. "Out of 100 people, 90 eat the cappellacci either because they are tourists who want to try, or because they are from Ferrara and they like it", explains Cavicchio.
But he is pasticcio, a centerpiece pie, which really looks like something resurrected from an Este banquet. At Trattoria da Noemi, the domed pie is decorated with strips, flowers and an "N" of leftover dough and is twice egg-washed for a shiny finish. Inside is short maccheroni pasta with minced pork and veal and béchamel sauce in four thick alternating layers, flavored with generous shavings of black truffle. The entire preparation process takes two days.
Maria Cristina Borgazzi, the daughter of Noemi, who opened the eponymous trattoria in 1958, has to make one of these colossal pies every day to satisfy demand. In order to keep the Renaissance recipe alive, Borgazzi took classes with local pastry chefs to learn the art of the pie lid. For the filling, she tweaked it slightly, including omitting some of the more unusual spices, to ensure it would appeal to her modern diners. "It's a delicate balance," she says, "and with lots of time, you get there. This is the idea of ​​the pasticcio. Although the Borgazzi tart tastes exquisite, it is inevitably heavy. But she laughs and remarks that for the Estes, it would have been just one of 80 dishes at a banquet.
Borgazzi also prepares the 16th century desserts, which are no lighter than the savory dishes. One of them, tagliatelle torta, also honors the iconic hair of Lucrezia Borgia. A shortcrust pastry base filled with almonds and honey is decorated with delicate wisps of crispy pastry to mimic its golden streaks. Borgazzi finishes the dessert with a healthy dose of almond liqueur that sizzles as it hits the hot dough.
Borgazzi explains that many of these Renaissance dishes have remained popular because they use easy-to-find local ingredients. But more importantly, there's a distinct sense of pride in the historic kitchen (Borgazzi has Messisbugo's cookbook in his kitchen). Echoing the baker Perdonati, Borgazzi notes that food is as much a cultural treasure as the imposing Estense Castle that dominates Ferrara's city center.
There is clear evidence of this local pride during the festive period in Ferrara, when another Este treat, pampepato, fills the market stalls in the central square. The nuns are said to have invented the spiced cake in 1660, inspired by a recipe from Messisbugo's book. They named their creation Pan de Papa (Bread of the Pope), wanting the rich, sumptuous flavors to reflect the majesty of the pontiff. The interior is filled with almonds, hazelnuts, candied fruit and spices, and the exterior is enrobed in dark chocolate.
The market stalls also sell local wines which, as expected, have a strong enough character to match the cuisine of Ferrara. The Vini delle sabbie (Wines of the Sands) are again thanks to Este, but with a bit of French influence. When Renata di Francia, daughter of Louis XII, married Ercole II, Duke of Este in 1528, part of her dowry was a vine from Burgundy's Côte d'Or. The grape thrived in Ferrara's sandy soil and moist, salty air, producing a tannic, astringent wine that complements the meaty, rich cuisine.
All in all, it seems like the only negative side effect of feasting like a 16th-century duke every day is drowsiness. But the city has an antidote: nine kilometers (5.6 miles) of ancient walls encircling the city are preserved as a walking and cycling route, perfect for a post-prandial awakening.
Gastro Obscura covers the world's most wonderful foods and drinks.

Sign up for our email, delivered twice a week.