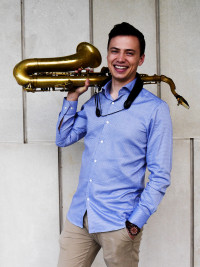 Spencer Schillerstrom – DePauw University
Spencer Schillerstrom began his musical journey learning to play many instruments, including the piano, cello and flute, before falling in love with the tenor saxophone at the age of 12. With the support of family, friends, and early childhood educators Johnathan Ball and Brayer Teague, Spencer's love and dedication to music grew. A few years after his first note, he began winning numerous improvisation awards at the Purdue and Elmhurst Jazz Festivals. Early in his career, he performed across the seas in Germany and Hawaii, and auditioned in several bands across Illinois through organizations like ILMEA and NIU Jazz Camp. It was organizations like these that introduced Spencer to many modern jazz voices, including Dana Hall, Marquis Hill, Christopher McBride and Bryan Carter. After graduating from high school, Spencer attended the DePauw School of Music where he studied jazz and classical saxophone with Steven Snyder, Randy Salman and Scotty Stepp. After four years of studying music and geology, Spencer graduated in 2018 with Summa Cum Laude honors.
After graduating from DePauw University, Spencer moved to Chicago to begin her freelance career and her master's degree at DePaul University. Studying with masters Dana Hall and Scott Burns, Spencer began performing and recording with several bands and musicians around Chicago and Indianapolis, including Maggie Speaks, Chicago Shout Section Big Band, Christian JaLon, Dean Z and his band standalone Silver Stream. Spencer studied and performed with a variety of individual musicians early in his career, including Eddie Henderson, Steven Snyder, Dennis Carroll, Alex Beltran, Jeremiah Hunt, Marquis Hill and Mark Colby. In 2018, Spencer also began his role as in-house woodwind specialist for Flatts and Sharpe Music School and the British International School of Chicago. These teaching positions led to an adjunct professorship teaching jazz ensembles at his Alma Mater, DePauw University. His Silver Stream bands have held residencies in Chicago, most recently at the Waterfront Cafe in Edgewater during the summer of 2020. He is currently writing and arranging the release of his first record of original works in 2022!