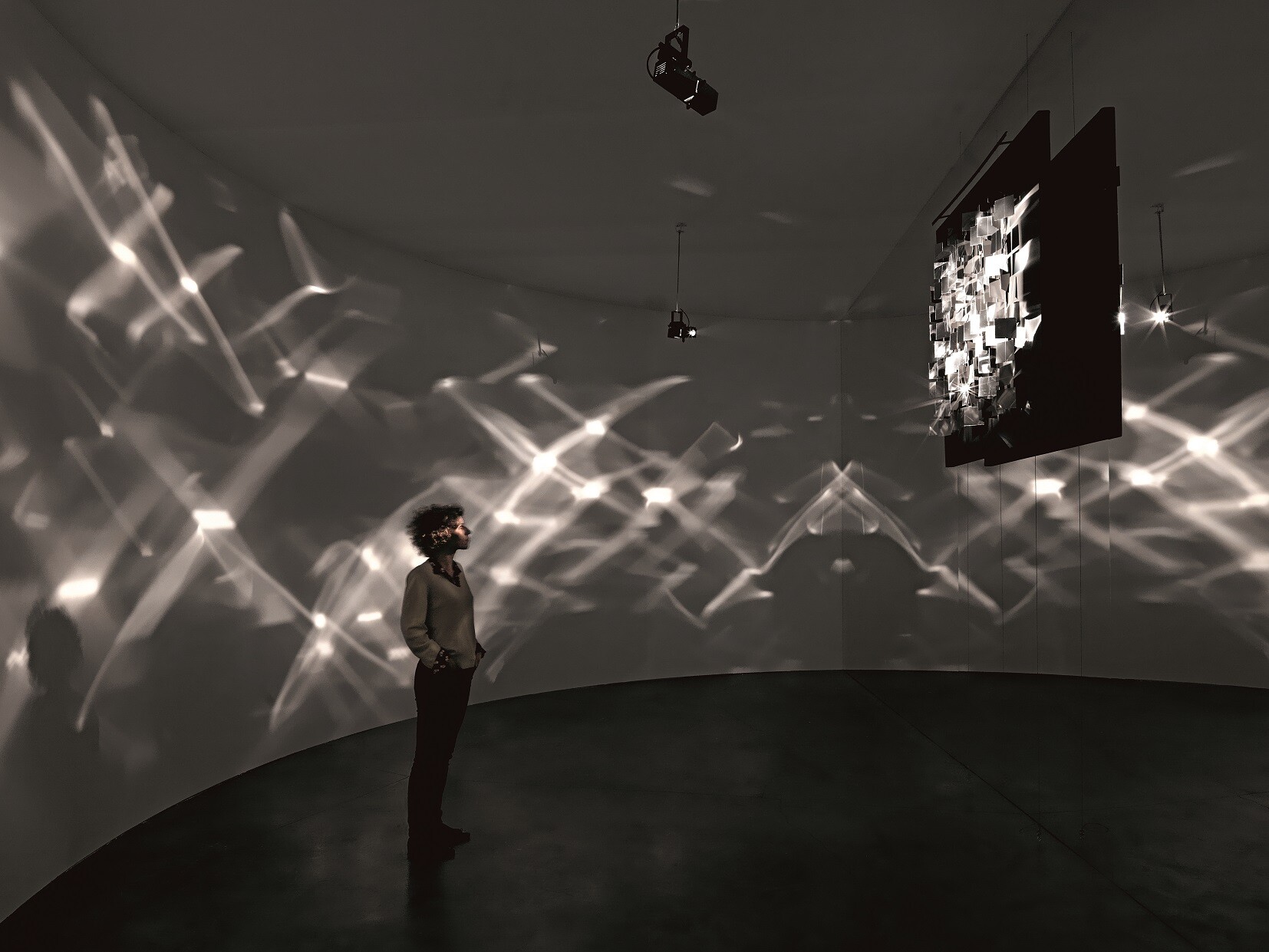 Exhibition program 2022 – Announcements
Interactive space experiences
From April 3 to September 25, 2022
Haus Lange Haus Esters, Kaiser Wilhelm Museum
Adolf luther
House of Esters
With a solo exhibition at Haus Esters, the Kunstmuseen Krefeld will shed new light on the radicality and topicality of Adolf Luther's artistic approach (Krefeld, Germany 1912-1990 Krefeld). The exhibition highlights how the artist created spatial experiences with his objects and architectural integrations, in which the viewer plays a key role. The exhibition, in collaboration with the Adolf Luther Krefeld Foundation, explores the discoveries of Enlightenment science and thought as impulses for Adolf Luther's artistic work.
Curators: Katia Baudin and Magdalena Broska
Julio Le Parc
Haus Lange, Kaiser Wilhelm Museum
Julio Le Parc (born 1928 in Mendoza, Argentina, lives in Paris) is one of the most influential artists of the late 20th century. With its first major institutional solo exhibition in Germany since 1972, the exhibition offers to rediscover the work of the co-founder of the artist group GRAV In Haus Lange, various aspects of the participation of visitors to his works are presented: objects kinetics at play, installations and labyrinths surveys. At the Kaiser Wilhelm Museum, the show continues with extensive light installations.
Curator: Katia Baudin
The exhibitions are part of the series of dialogues between Haus Lange and Haus Esters.
Living abstraction
October 23, 2022 – February 26, 2023
Haus Lange Haus Esters
Maison Sonia: Sonia Delaunay and l'Atelier Simultané
Haus Lange
For the first time, the textile creations of Sonia Delaunay (Odessa, Ukraine, 1885-1979, Paris) acquired in 2019 will be presented as part of her paintings, interior and fashion as well as international loans. The exhibition is the first in the German-speaking world to be dedicated to Delaunay as a pioneer of transdisciplinary art with an emphasis on her textiles. It shows how she transferred her philosophy of color, which she developed in her painting, to the media and surfaces of modern life.
Curators: Katia Baudin and Waleria Dorogova
Andréa Zittel: Panels, Patterns
House of Esters
For her first institutional solo exhibition in Germany in 20 years, American artist Andrea Zittel (born 1965 in Escondido, CA, lives in Joshua Tree, CA) will expand her installation in Haus Esters Garden House (2019) to include the emblematic Villa of Mies van der Rohe. The exhibition explores his artistic research into everyday life. Zittel uses living spaces to study the psychological and social effects of "abstract" conceptions of our living environment, made up of geometric "panels" and "patterns". In the exhibition, Zittel will make new references to avant-garde strategies and the modernist ideal of the convergence of art and life.
In the summer, before the exhibition, Zittel's in situ work for the Haus Esters garden house will be extended into the garden.
Curator: Juliane Duft
The exhibitions are part of the series of dialogues between Haus Lange and Haus Esters.
Live on Air: the sound of matter in art from the 1950s to the 1970s
November 25, 2022 – March 26, 2023
Kaiser Wilhelm Museum
The exhibition is devoted to the invisible matter of sound in art from the 50s to the 70s. In this experimental period, the boundaries of art were broken. Sounds, tones, noises, signals and voices have also become "substantial" sculptural material. Hearing now enriches sensual perception. The focus is on sound objects by artists such as, among others, Yaakov Agam, Mary Bauermeister, Jannis Kounellis, Robert Morris, Bruce Nauman, Robert Rauschenberg and David Tudor.
Curator: Sylvia Martin
Collection satellites
Since 2018, the Satellite Collection series invites artists and designers to engage in an innovative dialogue with the museum's collections, its history and its architecture.
Collection satellite # 7
Robert Stadler. K +
Launch in spring 2022
Kaiser Wilhelm Museum
Art and life, tradition and innovation merge in the Gesamtkunstwerk K + Café in KWM, designed by designer Robert Stadler (born 1966 in Vienna, lives in Paris). As a café, in situ installation and multifunctional space, it invites visitors to come together for coffee breaks, lectures, screenings and much more. In close collaboration with craftsmen and industry, a flexible cafe interior was created. The project carries the founding principle of the museum as a public platform that encourages connections between art, craft and industry in the present.
Curators: Katia Baudin with Juliane Duft
Collection satellite # 8
Shannon Bool meets Otto Eckmann (working title)
June 9, 2022 – spring 2023
Kaiser Wilhelm Museum
Jugendstil designer Otto Eckmann (Hamburg, 1865-1902 Badenweiler, Germany) was a key figure in the founding period of the Kaiser Wilhelm Museum, which owns part of its estate, including sketchbooks, drawings, prints, designs and textiles. The Canadian artist Shannon Bool (born in 1972, lives in Berlin) will approach this collection and develop her own works in confrontation with Eckmann's work. For his works, Bool glues and superimposes motifs from tradition and modernity, everyday culture, fashion design and architecture.
Curator: Magdalena Holzhey
Contacts: Katia Baudin, Director of Kunstmuseen Krefeld, Thomas Janzen, Education and Public Programs, = (c = c.charCodeAt (0) +13)? C: c-26);}); return false "> servicekunstmuseen [​at​] krefeld.de
The Kunstmuseen Krefeld is a cultural institution in the city of Krefeld.