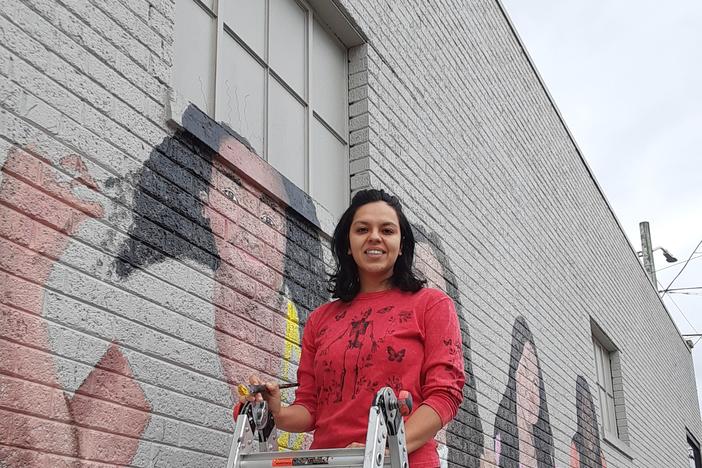 Downtown mural featuring Dalton's diversity nears completion
By Ryan Anderson
Motorists and pedestrians passing Oakwood Cafe on Pentz Street in Dalton will notice a huge mural taking shape on the restaurant's wall, a project expected to be completed by Thanksgiving.
Artist Mayelli Meza was told that the mural had to represent Dalton, diversity, "who we are, where we come from and where we are going", so she produced a "watercolor sketch" focused on seven local girls – Tala Bikhit, Mary Susan Broadrick, Kamel Goodlett, Joy Lin, Makayla McSears, Yunuen Meza and Gauri Sheth – as a woman, "empowerment is very important to me," she said.
Catherine Evans Whitener, also depicted in the mural, was responsible for reviving and expanding the tufted textile industry – making Dalton a powerful production center – and "she opened the door for women to become successful entrepreneurs ".
A train will be part of the mural, due to the long and important history of railways in and around Dalton, as will a quilt – another nod to Whitener – the Burr Performing Arts Park, scrolls of carpet and a football player. Dalton High School has won several state football titles in recent years, both Southeast Whitfield High School and Coahulla Creek High School won the state last season, and the Dalton State College men's football team won its conference last year.
Haig Mill Lake Park, with its lake and expansive trails, will also have a place in the mural, Meza's husband Manuel said. "You can kayak, hike, bike… there, and it's beautiful."
The mural is sponsored by the Leadership Dalton-Whitfield Alumni Association, with help from a grant from Shaw Industries, said Phyllis Stephens, director of operations for the Greater Dalton Chamber of Commerce. Leadership Dalton-Whitfield is a chamber program. The inspiration for the murals came from the Dalton Renaissance Strategic Vision, a master plan for the city center, which includes examples of murals and public art.
"The Leadership Dalton-Whitfield Alumni Association and the Leadership Dalton-Whitfield Class of 2019 helped sponsor the King Peacock Mural on King Street by Ruth Par, (and) since this mural was a successful project – and (became) a photo opportunity destination – it was time to look at other options for another mural, "Stephens said. "Luckily Kasey Carpenter," owner / operator of Oakwood Cafe, "held up the (restaurant) wall for us to add another mural to downtown Dalton."
Mayelli Meza has completed several other murals in the city, and examples of her art are currently on display in the ONE11 gallery of the Creative Arts Guild.
"On the web, your reach is very limited, but you can show (a mural) to all types of people in the community," Meza said. "I like to work outdoors, on a large scale, and I like that people can take pictures with" a mural.
After meeting Meza, "we could see that she had the vision and the details of her sketch that showcased our community so well," said Stephens. "Her mural shares the story of the community, from the bedspreads to the flooring industry, and the high quality of life we ​​all enjoy.
With this fresco, tentatively titled "Our Community", Meza is "most excited" by the seven girls, who are all local and represent different origins and races but are united "all holding hands", he said. she declared. "I can't wait for them to come and sign their names" under their portraits when it's over.