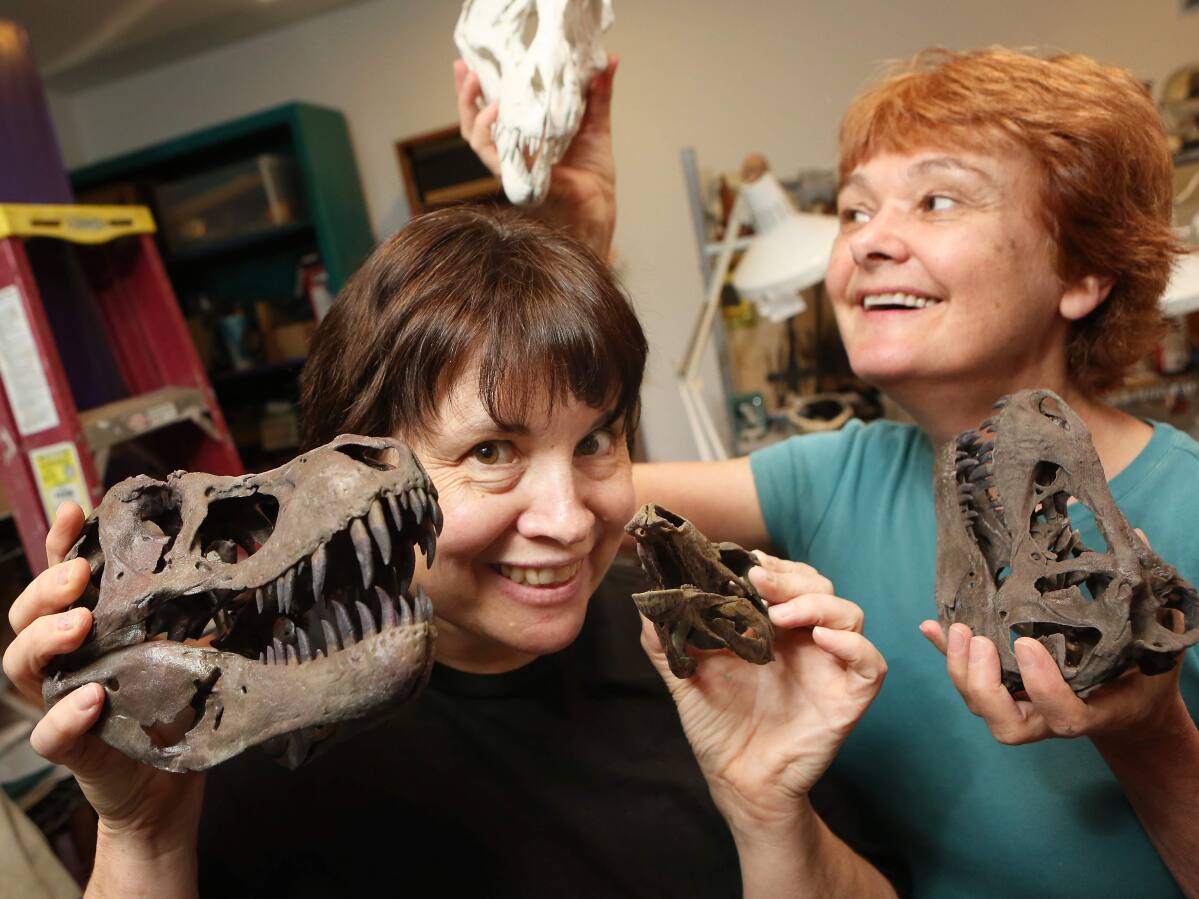 Emmy Award-winning puppeteer considered "Renaissance woman"
Winning three regional Emmy Awards at the age of 30, Kamela Portuges-Robbins was a woman of many artistic talents, including building puppets for films like "Being John Malkovich" and sculpting the models used to make dolls. celebrities like the Spice Girls. The longtime Boyes Hot Springs resident died suddenly in Eureka on October 21, when a pulmonary embolism stopped her heart. She was 58 years old.
"She was always ready to share what she knew, information, skills, materials, anything that would help anyone be successful," said Lee Armstrong, longtime business partner of Portuges-Robbins in their report. Springs-based media company, Images in Motion. "She has taught television puppetry and puppet building in national, regional and local puppet groups. She taught firefighters how to use the puppets to teach children about safety issues. "
Growing up in Burney, California, daughter of Paul and Barbara Portuges, Portuges-Robbins has always loved art and doing things. His intelligence and dynamism allowed him to go through school and obtain a master's degree in theater at the age of 20. By then she had discovered her love for puppets.
"She loved art and the theater. The Puppet presented a way to do everything from design, writing, puppet building, performance and more, "said Armstrong.
She landed a job with Chris Walas, the Oscar-winning special effects artist behind classics like "ET the Alien" and "Raiders of the Lost Ark". Portuges-Robbins worked on "The Fly II" shortly before moving to Sonoma in 1991 with her first husband.
"They were thrilled to discover a cabin at Boyes Hot Springs in beautiful Sonoma," Armstrong said. "Eventually, they bought two houses and built a film studio in Springs. Kamela loved the small town vibe and accessibility to hiking and the splendor of nature here. "
In 1996, Portuges-Robbins met Armstrong, a former puppeteer on Jim Henson's famous "Fraggle Rock" TV show who was leading a puppet workshop in Santa Rosa. The two soon became friends and in 1998 opened Images in Motion at Boyes Hot Springs, a business that specializes in building puppets, sculpting models, writing and producing video content, and more. They designed the strangely elegant puppets featured in Spike Jonez's "Being John Malkovich" in 1999. Other credits include "Life Aquatic with Steve Zissou", "Bicentennial Man" and "MonkeyBone". They also sculpted and 3D printed the characters that Pixar animators used when building a movie.
"She was not afraid to learn skills as varied as welding and fabrication, building radio control mechanisms, computer modeling and repairing 3D printers," said a memorial posted on Portuges-Robbins.
She met her current husband, Kieron Robbins, originally from Sonoma, in 2002 during an art class at Santa Rosa Junior College. She offered to guide him and soon he helped build characters and creations at Images in Motion. They married in 2008 and continued to develop their manufacturing skills. She wrote children's books with scripts, in addition to radio controlled mechanics.
"She was accomplished in so many arts, which is why I call her my Renaissance wife, gifted at so many things. No matter the time or budget, she always did the best quality possible. She always brought the same intensity to everything she did, "Armstrong said.
This tenacity was useful the day the people of Alanis Morissette came to call him. It was a Friday, and they needed a 5 foot tall microscope for a video clip on Monday. Usually, such a request would take two weeks to complete. Robbins said they should refuse, but his wife wouldn't hear about it, it was for Alanis Morissette.
"She was a huge fan," Armstrong said. "Three short days later, Alanis Morissette was looking through this cleverly made microscope for her 'Ablaze' video."
She added: "Kamela considered being able to do what she loved her greatest achievement. She would be disappointed to leave us so soon. She had so much she still wanted to do!
No memorial service has been scheduled, but memorial donations can be made to the San Francisco Bay Area Puppeteers Guild, to further the studies of puppeteers.
Kamela Portuges-Robbins is survived by her husband, Kieron Robbins; her sister, Shelly (Odd) Rustand, and her niece, Aubrey; his stepmother, Sarah Robbins; his sister-in-law Kemplen Robbins; its business partner, Lee Armstrong; and the many friends and co-workers.
Contact writer / editor Emily Charrier at [email protected].