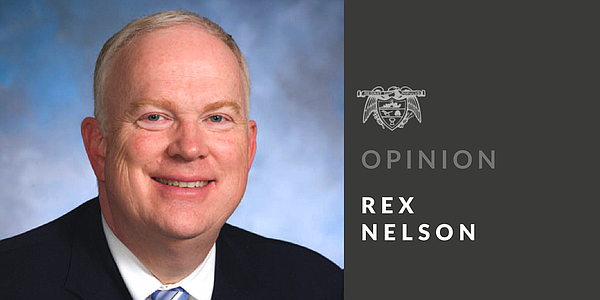 REX NELSON: City of the arts
I started communicating with Doug Stowe two years ago after writing a column on Eureka Springs. Stowe, a nationally recognized carpenter, is also a deep thinker. In 1977, he founded the Eureka Springs Artists and Crafts Guild. In 1995 he started writing books and articles on woodworking.
In 1998, Stowe was one of the three founders of the Eureka Springs School of the Arts. Three years later, he started the Wisdom of the Hands program at Clear Spring School, an independent school in Eureka Springs, with the goal of proving the importance of hands-on learning. He continues to teach woodworking in school, works every day in his own workshop and teaches carpentry for adults in schools and clubs across the country.
In 2009, the Arkansas Arts Council named Stowe a Living Arkansas Treasure. Stowe loves Eureka Springs and is truly an ambassador for the city.
The arts in Arkansas have experienced a renaissance over the past decade with the establishment of the Crystal Bridges Museum of American Art and the Momentary in Bentonville, the continued expansion of the Arkansas Museum of Fine Arts in Little Rock, and gifts from the Walton family. to significantly expand the artistic offering at the University of Arkansas. Add arts-related gifts from across the State to the Windgate Foundation, and it's the most exciting time for the arts in our state's history.
No city in Arkansas can claim to be a "city of the arts" better than little Eureka Springs. It has the highest percentage of artists per capita. People here talk about the arts like people in other Arkansas cities talk about college football.
"I always thought that others could learn a few things from Eureka, and in some cases, they did," Stowe wrote to me in that first email. "We had one of Arkansas' first historic neighborhoods, and we've come a long way to show how historic preservation can help communities be livable, walkable, and authentic.
"If the history of the arts of Eureka Springs is told, it will help communities understand how one generation of artists can nurture and encourage the next, bringing vibrancy to community life. I don't know if others would be. ready to learn what we have to share We are seen as eccentric We admit to being where the misfits fit in. Many people think we would not want investments from outsiders who only come to take advantage of our eccentricity and our authenticity, and not for the fabric of community life.
Stowe invited me to spend a day with him at Eureka Springs.
"I teach woodworking at Clear Spring School, which deserves recognition and support, as well as emulation as a role model," he wrote. "You can come on a Wednesday morning when I have the kindergarten group in my woodworking shop and then stay for recess, which is glory in itself. I also want to introduce you to Eureka Springs School of the Arts. ESSA and Clear Spring School deserves national attention.
"A parent can hope to transform a child's life, but transformation takes place both ways. The world in general would be a better place if a little bit of Eureka and what it teaches us about community and culture. life was shared in all directions. "
Plans were made for a visit, but the pandemic began. I was off the road for 13 months until I could get my whole family vaccinated.
Finally, I walk around the ESSA campus with Stowe. The school continues to benefit from a $ 10 million endowment created by the Windgate Foundation in 2019. The endowment is expected to produce $ 400,000 per year in operating support.
At the time of the donation announcement, ESSA Executive Director Kelly McDonough said: "With this support, we can expect ESSA to achieve national recognition on par with top schools such as as the Penland School of Craft in North Carolina, the Arrowmont School of Arts and Crafts in Tennessee, and Haystack Mountain School of Crafts in Maine. This support makes Northwest Arkansas a mecca for art and artists, not only a destination to see and experience great art, but also to do so.
ESSA and Windgate have been working together for 15 years.
"Years ago we were delighted to hear that several artists were determined to create a school to teach the arts," said Robyn Horn, Chairman of the Board of Windgate, at the time of the announcement. "We were impressed by the tenacity of the founders of ESSA, the professionalism and dedication of its staff and the range of opportunities offered at the school for students to come and learn how to make art.
"Our hope is to secure the future of ESSA and inspire others to join us in supporting an organization that has such a dynamic effect on artists. Our state is emerging as a state that supports the arts, realizing that its impact is both economic and inspiring.
Stowe founded the school in 1998 with Mary Springer and Eleanor Lux. Springer, sculptor and painter, graduated from Memphis College of Art. Lux, a studio artist, used weaving and beading techniques to create sculptures and wall pieces.
Stowe studied political science and sociology at Hastings College, a Presbyterian school in Nebraska, from 1966 to 1970. He received conscientious objector status in the Vietnam War upon graduation and moved to Memphis to fulfill an alternative service requirement at a children's home.
Stowe also studied pottery at what was then Memphis State University. It was there that guest artist Jo Ann Kaminsky told him he should move to Arkansas, which was popular among members of the Back to Earth movement. Stowe arrived in Eureka Springs in 1975.
"It was a place that was, to the chagrin of some locals and to the satisfaction of others, kind of hippie-overrun," he told an interviewer in 2019. "There were a lot of hippies. people, long hair you know, and we would recognize each other in the streets, we hugged and some, of course, grew and smoked marijuana. Everyone was going to have lunch at the same places, and they would all say if they were writing or no.
"There were people here who really encouraged us as young artists. Louis and Elsie Freund were seasoned artists who were so welcoming. There were people who had real credentials in the arts. we might not have had a lot of artistic talent back then, that didn't deter their desire to help us grow. "
Stowe started a pottery workshop, but then moved on to carpentry after getting a job creating furniture from old barn wood for Arkansas Primitives. When the company went bankrupt, he bought tools and started working on his own.
"Most artists wonder at one point or another how their work will be viewed in future generations," he says. "Those of us who have been involved in ESSA have been transported to the top of a mountain and can now see very far. We also realize that the trust placed in us gives us greater responsibility. There is so much more to it. to do."
The school is on 55 acres just west of town. During the first years, ESSA did not have a campus. The first building was completed in 2004. There are now 10 structures. Four chalets with two bedrooms each welcome visitors and resident artists. An old house that was already on the land is used for group events.
We visit a class that Springer teaches. She also benefited from the mentorship of Elsie and Louis Freund.
"One day in the late '90s, Doug looked at me with my graying hair and said,' If we're going to do this, we better do it now, '" says Springer. "That's what we did. With the help of Eleanor Lux, we formed a board of directors and got incorporated."
"Eureka Springs was the perfect location for a school like this," Stowe says. "Knowing that we were a well-established arts community and that all of the great art schools were far removed from us, we knew the entire Midwest needed what the artists of Eureka Springs had to offer. It seemed logical that we have an art school serving our community and the region.
---
Rex Nelson is editor-in-chief at the Arkansas Democrat-Gazette.