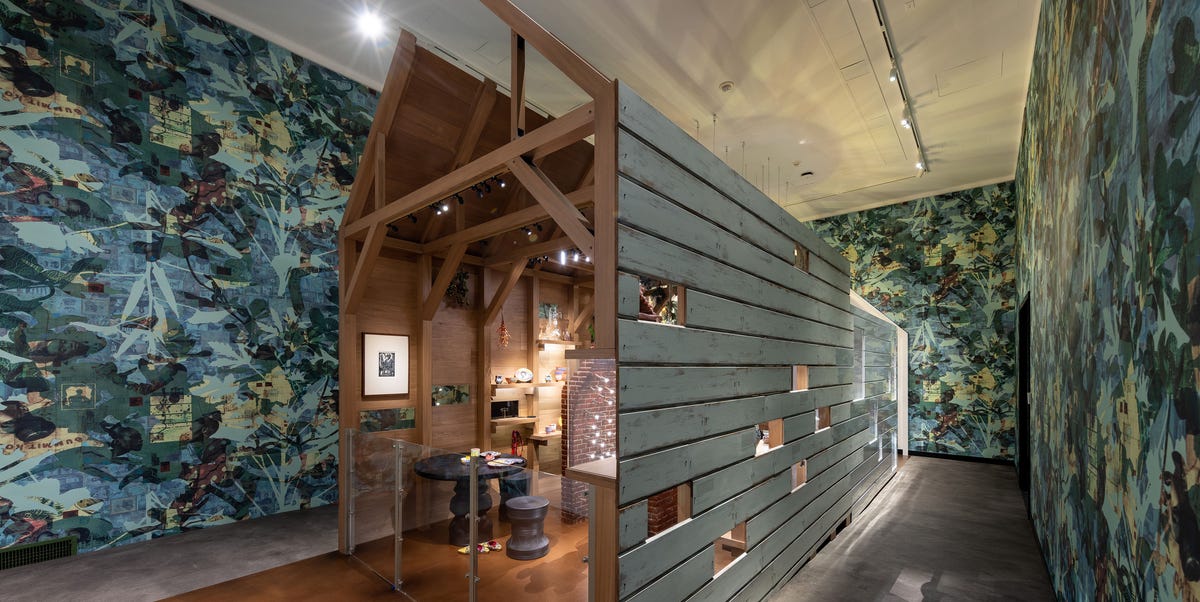 The Met's new Afro-Futurist room asks "What if?" "
Courtesy of the Metropolitan Museum of Art / Photo by Anna-Marie Kellen
For years, the Metropolitan Museum of Art has attracted fans of interior design and decorative arts with its so-called period rooms– lounges, bedrooms and lounges rebuilt to scale demonstrating period decor and (mostly) white European tastes. On Friday, the museum will open its first foray into interiors of the African diaspora with the installation The day before yesterday, we could fly: an Afrofuturist period room. Significantly located at the crossroads between the American Wing and 19th-century British and 19th-century European galleries, the Period Room examines a number of diverse influences on American and African American culture, bridging the gap between the past and the future.
The facility is built to resemble a plank house with a brick fireplace suitably located at its center. The central inspiration came straight from the backyard of the Met. There, between the 1820s and 1850s, a thriving African-American community called Seneca Village flourished before being razed to create Central Park.
The installation envisions what subsequent growth would have taken place in New York's black community had it been allowed to thrive – or even just exist. The designers of the exhibition (including Black Panther production designer Hannah beachler, among other collaborators) worked alongside curators at the Met to bring together a selection of historic works from the museum's permanent collection, as well as contemporary art and objects from more than 10 artists to outfit the space. Among the items on display are whimsical armchairs with intricately woven backrests from South Africa Atang Tshikare, ceramic portrait from Pennsylvania Roberto Lugo, and Los Angeles wallpaper Njideka Akunyili Crosby.
Connections are made between the past and the present through objects. For example, the mid-19th century hair comb made by India Rubber Comb Company and the Ethiopian American designer Jomo Tariku's Mido chair, both of which are reminiscent of an afro pick. The juxtaposition of the two prompts cheerful contemplation, while other objects – a prestigious Bamileke or Bamum stool made between the 19th and 20th centuries, for example – recall the relationship between pre-colonial African traditions and the erosion suffered by heritage due to Western interference.
Overall, the exhibition strikes a thematic balance between light and dark. And while period rooms have historically asked visitors to look to the past, the Afrofuturist asks them to imagine the future, a future that is truly worth seeing.
This content is created and maintained by a third party, and imported to this page to help users provide their email addresses. You may be able to find more information about this and other similar content on piano.io