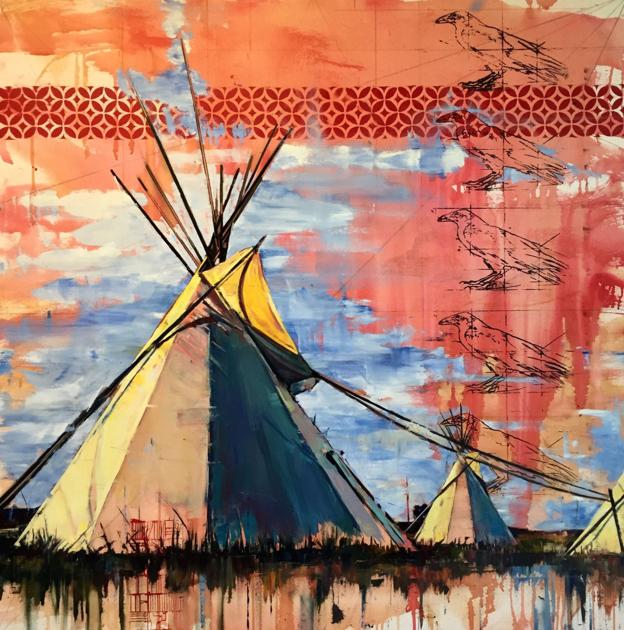 Diehl Gallery tackles Aboriginal themes | Fall Arts Festival
Malcolm Furlow's paintings are surprisingly colorful.
So striking that when he was a student at the University of Texas, he failed art class because of his high contrast experimental palettes. Yet Furlow stuck to his vision, and today his disapproving former instructor is teaching Furlow's work to the next generation of students.
"My old teacher let me know that the color policy has been updated because of my success," Furlow said.
Furlow's first exhibition with Diehl Gallery, "Season of Many Prayers," is one of two solo exhibitions that kick off the gallery's participation in the Fall Arts Festival, featuring Douglas Schneider, an artist from return from Diehl, with his exhibition "Night Visions".
In "Season of Many Prayers," Furlow grapples with the question of how to present Native Americans in a clever way while subverting stereotypical representations. Furlow draws on his Choctaw, Black and Irish heritage in his work, the distinct contexts of each ethnicity informing his perspective.
Growing up, Furlow was discouraged from talking about his grandfather Choctaw for his own safety. Today, he counts with this alienating experience in his art.
"Black men and 'Indians' weren't even considered humans," he said. "Only whites were considered human. White people coined these words to refer to any dark person in order to dehumanize them. "
In his Diehl exhibit, paintings like "Bitcoin Billionaire: Cheyenne Chief" and "Armani Indian" indicate a tension between wilderness and civilization. On the one hand, the hollow wealth symbolized by cryptocurrency and designer brands; on the other, the tangible reality of the consumerist ethic of colonialism.
"For an 'Indian' to be taken seriously by the colonizers, he had to wear the symbols of success that whites recognize," Furlow said. "Wearing a Rolex instead of a war bonnet will earn you a lot more respect from whites, even though a war bonnet is infinitely more difficult to earn than a Rolex. "
Furlow's work is in conversation with a new school of Native American experimental figure painting, alongside artists like TC Cannon, who stylizes his models' clothes against raw, unmodulated backgrounds, and the late Fritz Scholder who painted native subjects in high contrast palettes.
"The color comes to me in a spiritual way," Furlow said. "If I do a dancer, or a leader or a warrior on horseback, it automatically takes me to reds, yellows, oranges, lime green … all the hot colors because it's action. . The color prevents me from struggling too much with the literal.
Douglas Schneider's work, like Furlow's, is inspired by Native American heritage. Schneider has Cherokee ancestors but found himself particularly fascinated by the role of the tipi in the history of the Plains Tribes.
"As an artist, I fell in love with the concept of the importance of each part and its spirituality," he said. "It was very enlightening and very moving, allowing my heart and my soul to deepen this project. "
Schneider was drawn to the tipi as a dwelling that considers harmony with the natural and spiritual worlds. In a modern context, Schneider deplores a loss of respect for nature and the destruction that accompanied the European colonization of the American continent.
"It's the antithesis of what Native Americans did, which was extreme respect for nature," he said. "We now see the possibility of being the ones causing our own extinction."
Through his paintings, he hopes to pay homage to the naturally sustainable lifestyles of the Plains tribes and create a ripple effect on environmental awareness.
The opening of the two shows will take place from 5 p.m. to 8 p.m. on September 10 in the evening of Les Palais et des Palettes. Diehl Gallery is also representing six artists in the National Museum of Wildlife Art's Western Visions exhibition and sale, and their work will be showcased in a salon-style celebration during the farewell brunch in the fall on September 19. October 30 and for the benefit of the First Nations Development Institute. ??