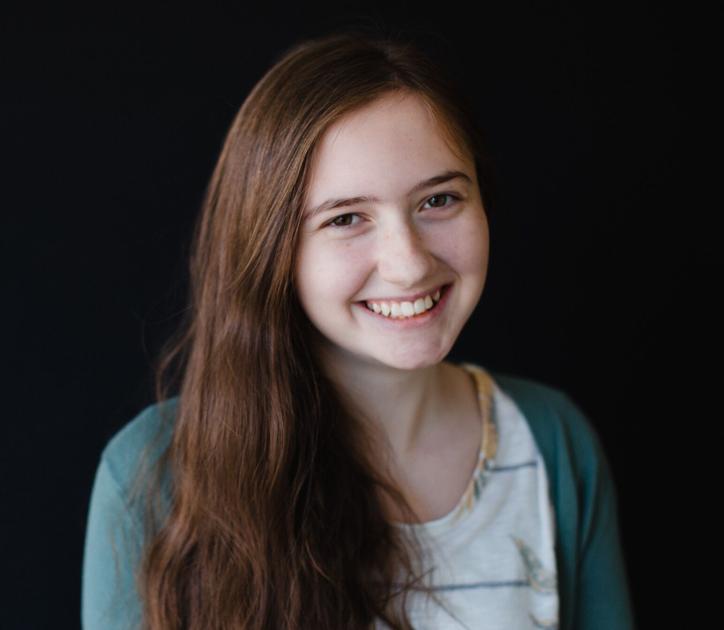 Dream Opportunity: Bridgeport, West Virginia, Home Student Traveling to Shakespeare's Birthplace After Scholarship Awarded | New
BRIDGEPORT, Va. (WV News) – Reading Shakespeare in ninth grade intrigued Abigail Cogar, a student at Bridgeport. Now the home student will have the opportunity to visit the birthplace of the famous playwright and explore his legacy.
Cogar plans to visit England and Shakespeare's birthplace, Stratford-upon-Avon, in April with his mother Jennifer and father Andrew, friend and classmate Eva Berry and Berry's mother Cynthia after receiving a grant under the Meet the Moment 2.0 grant program of the VELA Education Fund.
"The girls came to me with the idea of ​​taking a long trip when they read Shakespeare, because they really wanted to go to Shakespeare's Globe (a recreation of the theater where Shakespeare's plays were performed). Although I was impressed with their idea, I was not by the reality of what was going on, "said Jennifer Cogar. "But they were very sincere about wanting to do this and were excited to read more about Shakespeare, so we started to think about ways to make this possible. I wasn't sure how many. opportunities that we were going to have to fund that.
"Meet the Moment 2.0 has been an incredible blessing to us as they inspired and funded this great opportunity with a $ 10,000 grant for Abigail and Eva to study Shakespeare and travel abroad to see these plays come to life. "
Meet the Moment 2.0 is a grant program that supports innovative, non-traditional education programs.
Abigail and Eva will be taking equivalent undergraduate courses during the 2021-22 school year, including in the Morgantown-based Classical Conversations homeschool group. The group meets once a week; parents teach their children on other school days. Thanks to the class, the Cogar and Berry families have become friends.
"Especially during the pandemic, we will have to meet a lot on Zoom," Abigail said. "We are able to do a lot more in person now, fortunately. Eva had the idea to go to London and I said, 'Yes, let's go.' "
Eva said she was excited about the trip.
"I've never left North America before so I'm really excited," she said. "I loved how smart and witty 'Tame the Shrew' was."
Students read the play two years ago, along with a Shakespeare biographical review, with former Morgantown director Gaby Johnson before completing a second semester project focused on the Renaissance.
"The mission was to study and present the era of Shakespeare. I studied music and instruments, and Eva studied food, "said Abigail.
While Abigail played a recording of Elizabethan music and composed a slide show, Eva was preparing food from the time for Berry's family.
Cynthia Berry said the family meal was "very tasty" and a good diversion from the COVID-19 pandemic.
Johnson, a former high school teacher in South Carolina, was surprised when told about the grant award.
"I didn't know it was such a great experience," she said.
Students will plan the travel route and track the funds throughout their economics course. More educational opportunities were also available on the Globe webpage due to the initial shutdown due to the COVID-19 pandemic.
Cynthia Berry will teach girls all subjects during the fall and spring semesters of Challenge 3, including chemistry, history, math and other Shakespeare plays including "Macbeth", "Hamlet", "Henry V" and "Much Ado About Nothing".
"My favorite is probably 'Twelfth Night', however," said Abigail.
The Cogar family saw the Rustic Mechanicals of Clarksburg perform "Twelfth Night" at Palatine Park earlier this summer.
Cynthia Berry, of Morgantown, studied Shakespeare in high school and college, but not to the depth expected this fall. She said Abigail Cogar and Eva will also perform some of the scenes in the play during weekly lessons.
"It's a different experience to be able to read with other people or to hear others play it," said Cynthia Berry.
The students are not only classmates, but also dancers, including Abigail from the Leaps of Faith group at the Heritage Christian School and Eva from the Morgantown Dance Company.
Jennifer Cogar appreciated the closer relationship she is able to develop with Abigail, as well as her 14-year-old son Jackson, 10-year-old son Austin and 5-year-old daughter Juliette, through home schooling. , as well as family values. , integrity and character that she is able to teach her children. Jennifer and Andrew Cogar, both public school graduates who loved to read and see Shakespeare performed, have been teaching their four children since they started kindergarten.
The married couple are also reading How To Teach Shakespeare To Students.
"It will be a good learning experience," said Cynthia Berry, who also homeschooled her son Noah and daughter Magdalena and aspiring student Jude. "It's a complete and brilliant surprise."
Jennifer Cogar called it a "dream" to be able to visit England, especially given the effect of the COVID-19 pandemic on their education.
"It is remarkable that we were selected for such a great opportunity," she said. "Abigail is the recipient of this scholarship, but she has already inspired her siblings. Hopefully when we return we will be able to introduce home schools to the community and spark a passion for Shakespeare within them as well. "
Abigail Cogar and Eva Berry's grant request was among the 500 requests received. Applicants came from 47 states, Washington, DC, Puerto Rico, and the US Virgin Islands. They will blog about William Shakespeare before and after the trip.
"We are in awe of the ideas that caught fire during the pandemic and the humanity that everyday entrepreneurs are bringing back to education," said Meredith Olsen, President of the VELA Educational Fund. "VELA's Meet the Moment 2.0 investment will help support and expand this innovative educational movement into the future.
"The breath of learning opportunities is really wide. There is a huge range of ideas being explored, all kinds of opportunities to help parents, families and communities continue to provide education in a way that works best for each student. These people put all their heart and soul into trying to serve children in such a resourceful and creative way, and when they find that a philanthropist wants to support what they do, they are so grateful.
"We are inspired by the people who do this work on the ground.
VELA Education Fund, based in Wichita, Kansas, has been an independent, national, nonprofit organization since July 2020 that invests in non-traditional educational innovations that meet the needs of learners and families, officials said. Created by the Walton Family Foundation and Stand Together, the fund partners with organizations and communities to administer grants to eligible people and organizations who innovate outside the mainstream education system, officials said.
VELA connects its beneficiaries to a nationwide network and provides them with a platform to elevate their work and learning, officials said. Through Meet the Moment 1.0, VELA worked with five partners to distribute more than $ 2.7 million to 450 beneficiaries, who were located in 42 states, including Mountaineer Homeschool Hub in Morgantown. Meet the Moment 1.0 beneficiaries have reached more than 225,000 children and families, officials said.
{div id = "i4c-draggable-container" style = "position: corrected; z index: 1499; width: 0px; height: 0px;"} {/ div} {div id = "i4c-dialogs-container"} {/ div} {div id = "i4c-dialogs-container"} {/ div} {div id = "i4c-dialogs-container"} {/ div}