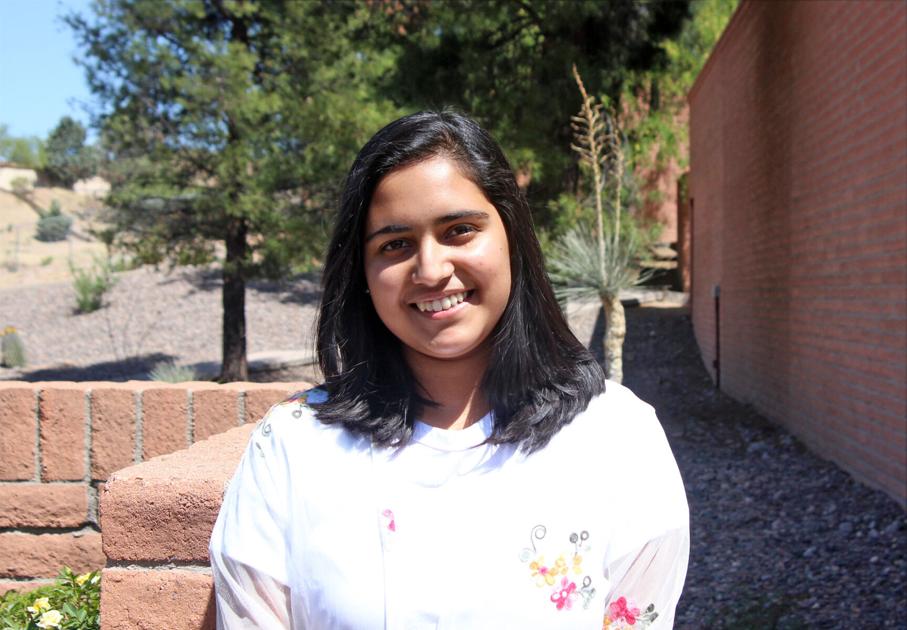 Srishti Mitra wants to make a difference in women's health | Community
As a musician, Srishti Mitra sang the national anthem at local ROTC events and at her high school graduation ceremony, and also performed Indian classical music at cultural events in Tucson and in Phoenix. As a writer, she won an award for an essay on Queen Laxmibai, a leader of the Indian rebellion against British rule, and won a VFW competition with an essay on the importance of voting. As a student, she heads the 2021 class of Nogales High School and is heading towards a career in medicine.
This year's NHS Valedictorian plans to study biomedical engineering at university and go to medical school, and hopes to someday work with the United Nations. But she said that doesn't mean forgetting the city where she grew up since she was 6.
"I also want to carry the name Nogales, because this community has given me so much and I want to give back to it," Mitra said.
From an early age, Mitra intended to become a professional scientist. In elementary school, she thought of a career in marine biology and later in volcanology. By the time she was in college, she had settled on medicine.
This interest is in part due to the research she has carried out for several years. Mitra's father is the former CEO of Lifespring Hospitals, an Indian hospital chain that provides maternity care to low-income women. During regular visits to India and other South Asian countries, Mitra learned about the company, spoke with doctors, nurses and hospital staff, and ultimately wrote a research paper on what could look like low cost maternity care in the future.
"When I saw the atmosphere of the hospital and everything, it made me want to go into medicine," she said. She is particularly interested in gynecology and cardiology.
Mitra was born in Kalyani, West Bengal, but her family has its roots in Kolkata, the state capital a few miles away. At the age of 6, Mitra and her mother Dipanjana Mitra moved to Nogales, when her mother accepted a job as a math teacher at Nogales High School. Her father initially stayed in India, but then joined the family in Arizona when Mitra was in eighth grade.
In second grade, Mitra found herself in an unusual situation for a high school student – she was a student in a trigonometry class taught by her mother. "It was very awkward at first," Mitra said with a laugh, "but I got used to it.
She credits several teachers for having particularly supported her in her academic career.
She said that Lupita Lillywhite, her fifth grade teacher, was "one of the most wonderful people I have met." A college teacher, Alison Smith, helped her think about math in new and fun ways.
In high school, Mitra said she was inspired by history teacher Luke Brannen, as well as her mother. "She's just a teacher in every way," Mitra said.
During his freshman and sophomore years, Mitra participated in the Air Force Junior ROTC program at the NHS. Although she is not heading to the military, she said the JROTC taught her important lessons.
"I think being a part of this program taught me the importance of discipline and integrity, honesty and sincerity," she said.
And she wanted to say hello to some of her ROTC instructors: Donald Belch, Ronald Thielke, and Frederick Harvey.
Mitra said another inspiring figure for her and her family is Rabindranath Tagore, an Indian writer and artist who was a leading figure in Bengali culture in the 19th and 20th centuries, in addition to being the first Nobel Laureate. from the country and a women's rights defender. In addition to singing Carnatic classical music, Mitra sings Rabindra Sangeet – songs composed by Tagore.
"He's someone we really respect," she said, adding that she saw him as a guru.
The switch to e-learning for her senior year in high school left Mitra feeling like something was missing, but she says the experience also helped her understand what she enjoys learning in school, alongside a teacher and classmates.
"It's not the same," she said of distance learning. "I think I missed that atmosphere the most."
Mitra found out that she was the top-ranked student in her class earlier in senior year, when she received her mid-year transcript, which indicated her placement among her peers.
"I couldn't believe he was saying '1'," she recalls. "I'm like, 'Is there a number missing in there? ""
"I felt very grateful and grateful, and a little proud too," she said. "It was a very long journey."
Earlier this month, she completed exams for her International Baccalaureate program. Next up is a summer program that conducts laboratory research at Arizona State University. Then she plans to go to college in the fall. Mitra has been admitted to both Harvard and ASU, but said Thursday she still had not made a final decision on which school she would attend next year.